The modern pharmaceutical industry is constantly facing new disruptions and challenges, mostly operational. Fortunately, the technological advancements and cloud computing enable pharma companies to withstand changes and improve interactions among doctors, pharmacists, and patients/customers. The digital marketing has become a dominant marketing approach for the pharma industry as it helps to deal with any kind of contingencies and allows to connect with customers through various digital platforms and media. Accelerated digital transformation of the pharma industry is important for speeding up processes, improving health care, cost-effectiveness, new-drug research and manufacturing.
To overcome the impact posed by the COVID-19 and respond faster to the changing consumer needs, the pharma companies were forced to adopt faster and introduce the latest digital advancements into sales and communications, thereby finding a silver lining that fast-forwarded the pharma digital transformation for several years. Until recently the pharma companies had been using traditional methods of operations and the return on investment in digital initiatives was still a hot topic to discuss among the top management. But now it goes without saying that the introduction of the newest digital technologies in the pharma industry had streamlined its operations.
Patients took up digital communication tools for the first time during the COVID-19 lockdowns, with many of them saying now that they saw excellent health care quality and will continue to use telehealth technology. Indeed, e-health provides avenues for two-way doctor-patient communication that makes discussions easier and more resourceful.
Today, a key factor to win in the digital world is to continue introducing the digital marketing channels into the pharma, streamline operations using the right digital health tools, and develop quality content that will drive demand and boost engagement.
With all that said, the pharmaceutical industry switched to digital technologies too abruptly. The companies suddenly were forced to operate differently and turned out to be completely unprepared in terms of infrastructure, ready-made content, and technical competencies.
It was at that time that The Servier Ukraine company reached out to us to help them go virtual and guide its employess through the virtual event software and platforms to organize and host online events with doctors of different medical specialties and subspecialties. Our team was tasked to develop a perfect landing page for each virtual event. Besides, The Servier Ukraine management requested us to build and launch an online store for the company's product line.
Several teams were formed for each project, each being entrusted with different stage of the web development and digital marketing process. By that time, we already had a lot of experience working in the pharma sector.
Coordinating efforts with the client-site marketers was another major challenge. In our experience, an effective communication is the key to the project successful resolution. We managed to build trust with our client and achieve seamless collaboration working as a team. On our end, a proactive project manager with an extensive expertise was in control of all the processes throughout the entire project. A dedicated team, which included a web designer, a front-end developer, a back-end developer, and a testing specialist, was assigned. Understanding requests and needs of our client, we formed a dedicated team model that was hand-selected from our internal web development department for their experiences and skillsets.
The dedicated team model fully took over the implementation of the project, to enable our client manage the high-level tasks within the project.
A dedicated team model is a business and financial partnership widely used in software development projects when obtaining outsourcing services.
It's worth mentioning that in our particular case, the client had neither time nor resources to hire and staff an in-house team for the realization of the project. So, the dedicated team model was the best choice of partnership for our client. Our team of dedicated developers proved its professionalism delivering top-of-the-line tech solutions at comparatively lower costs.
Custom Web Application Development
In the course of project implementation, our team had successfully completed a series of tasks. We developed a virtual event platform and designed a number of specific-topic landing pages for each webinar. On our portion of project, we have delivered a plethora of services covering the landing page design and all the way to the live webinar tech support.
Pharma Web Development Services
Besides, we worked closely with the client to create an effective modern product line website—a dynamic, creative, and unique digital product— which presents a friendly user experience and conveys the company's particular message. It was one of the major task in our overall web development and digital marketing process for The Servier Ukraine. In technical terms, the website design was done using WordPress CMS. As part of the project, we created a prescription treatment web game for doctors, which is a growing med tech trend now. Through captivating web game experience, the physicians prescribe high-quality effective medications to their patients, in a fun and engaging way. The web game interactive characters were specifically designed for The Servier Ukraine project — they produce emotional reactions to the right or wrong choice of a prescription drug.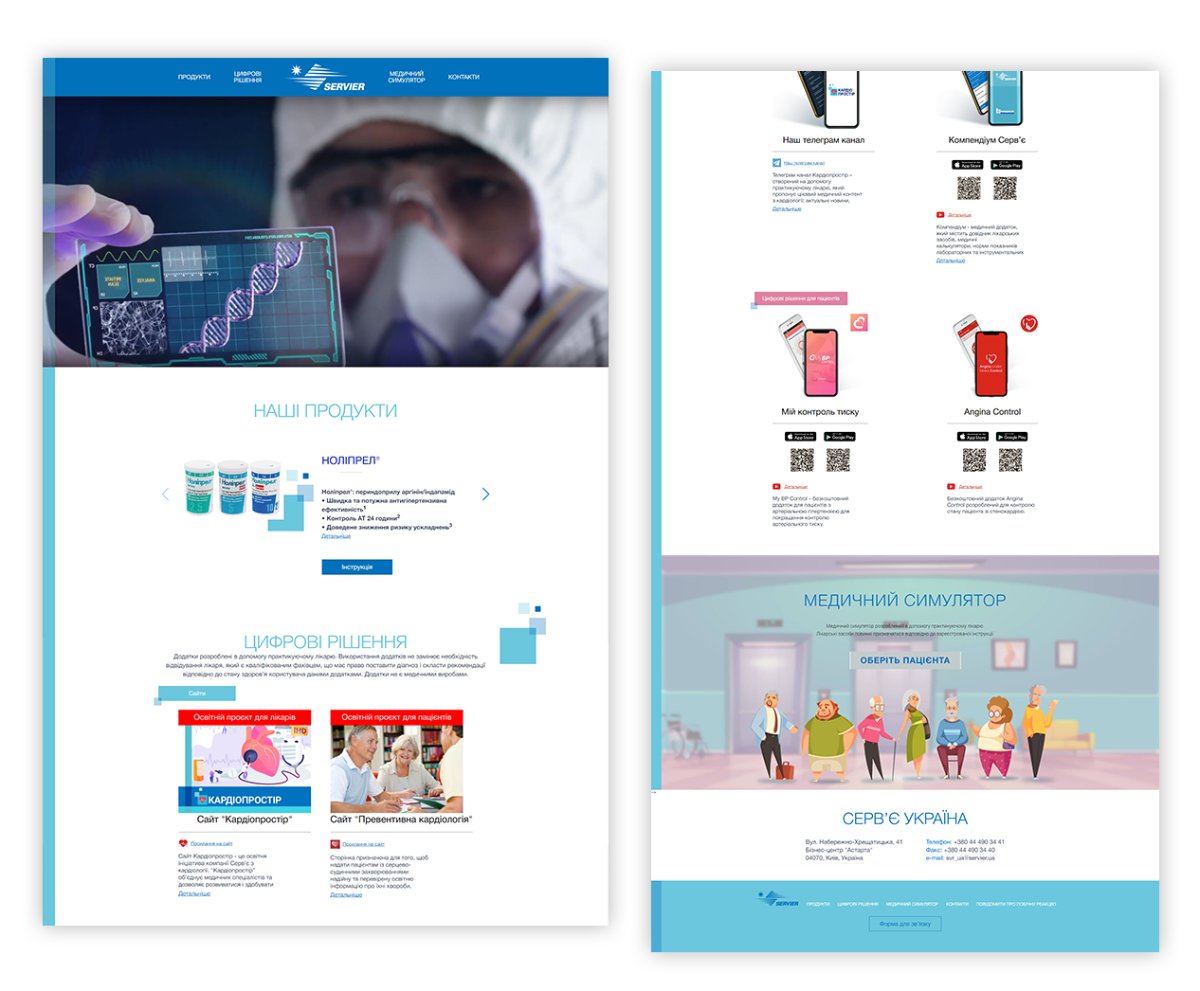 Developing a product line website: Goals and objectives
The desired project objectives had been achieved: An outstanding, modern, and very functional user interface was designed to help medical practitioners review drugs and the drug instructions, download easy-to-use application, or join a medical community in the Digital Solutions section. Besides, with the help of a medical simulator, the medical specialists can test their knowledge through web game experience and choose the right treatment for their patients. All the patients presented in the web game have their own charts that display information about their age, medical history, including medical conditions, past and present treatments, and more, so physicians can develop better medication-assisted treatment.
Technical Implementation
Technical implementation. The site was developed using the WordPress CMS platform. The web game was built with Vue.js, js, css, html. In addition, a feature to enable our client to create tests for website users independently had been implemented.
Conclusions
It was our SEOTM's experts that helped our client, The Servier Ukraine, make a project successful. Our cohesive team of professionals with excellent technical skillsets and experiences had completely and utterly immersed in the project details. Besides, our team was superbly qualified to manage our client's expectations: Whenever issues arose over the course of the project, our experts responded to any unexpected changes quickly and efficiently, attracting additional resources, if needed.
Type of a site
Landing Page,Responsive websites
By Industries
Pharmaceutics
Technologies
JavaScript,PHP
CMS / Framework
WordPress
15
Years of Experience In
Digital Marketing
300
Sites Have Become
Leaders
25
Countries Where We Provide Services
as an SEO Company
500000
Pages Ranked in Organic
Search Results